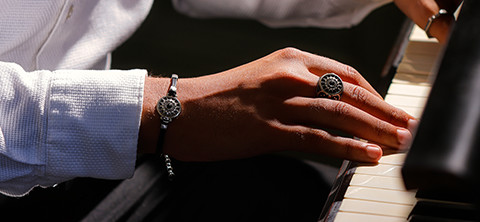 Men's silver bracelets
Among the most sought after accessories, Ellius men's bracelets can be found in all collections.
Silver bracelets for men
Ellius men's silver bracelets are among the most sought-after jewelry and sold in the online store and in stores. Ellius presents a wide variety of models to choose from: with marine cord, leather, with chain and in many versions, to wear every day. Made of 925 hypoallergenic silver, Ellius men's bracelets are the perfect gift for a man with a determined character. The distinctive elements of the collections are worked in a wise and meticulous way, by artisans who love beauty and made in italy. Lava stone, jade pianca, tiger eyes: these are just some of the particular stones that distinguish the wonderful silver bracelets for men Ellius.
Bracelets for men: timeless must-have
Each Ellius collection starts with a story: our history is at the heart of the collections, as well as our love for art and beauty. This passion for everything memorable that has gone before, leads to the study of jewelry that encapsulate a world of values and sophistication.
The medieval knight, for example, a symbolic figure of loyalty, courage and faithfulness, is told through elements of war and battle. Helmets, swords and spears become small details that enrich Ellius men's bracelets.
For lovers of linear and timeless design, the new Rosoni collection presents unique bracelets. The perfect lines of rosettes, which embellish basilicas all over the world, are taken up with meticulousness and elegance in every detail of Ellius jewelry. Thus, round and perfect elements, enrich the men's silver, cord or leather rigid bracelet, making these jewels timeless! Discover men's bracelets and choose the perfect ones for your looks!
Read More