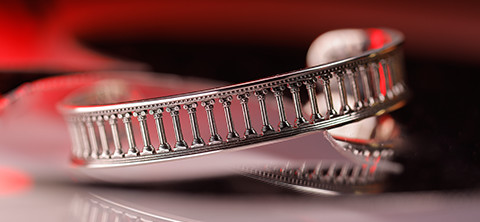 Women's silver bracelets
Rigid, chain, with a strap… Ellius women's silver bracelets are present in all collections. Choose the one that best suits you and wear a special jewel.
Handmade in 925 silver
Ellius women's bracelets are made of 925 hypoallergenic silver and enriched with unique details. The star of the Nativity, the coats of arms of the Saracen Joust, the rose windows and the domes of churches, are just some of the unique and original details present in Ellius collections.
The silver bracelets for women by Ellius alternate this material, ductile and malleable, with other materials such as leather or knotted marine cord. Modern women's jewelry with an unmistakable style, Ellius bracelets are perfect for any occasion.
Women's bracelets inspired by Greek and Roman mythology
Ellius has always created jewelry rich in meaning: the love for art and history is evident in all its collections. Greek mythology, Roman and Medieval symbols, alternate with true masterpieces of art of all times, able to evoke emotions and memories.
The bracelets of the Domes and Rosettes collection interpret a journey around the world, rediscovering the most famous churches, while the Rosary, Nativity and Our Father jewels contain symbols of faith and peace. Find the perfect women's bracelet for you and explore the world of Ellius.
Read More