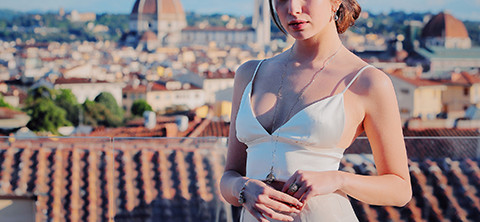 Women's silver necklaces with stones
Within the Ellius collections, a central role has always been played by the beautiful silver necklaces with semi-precious stones. Short, long, modern and trendy, these jewels are among the most sought-after in the online store.
Women's necklaces with stones
Handcrafted women's necklaces with stones have always been among the most popular. Every outfit is enriched and sparkles thanks to these jewels, capable of giving every woman not only elegance, but also personality.
Ellius, for its silver necklaces with stones, has decided to use many colourful stones to illuminate and make each piece of jewellery unique. In fact, each collection has its own necklaces with stones that characterise it. In the Vulcano collection, for example, the stones are ruby-coloured, as they reflect the colour of lava.
In the Solaris collection, on the other hand, the coloured stones reflect the sun's rays: in white, green, red, yellow, blue, black or champagne variants, they make this silver jewellery bright and sparkling. Modern women's necklaces, long or short, with an elegant and sophisticated design, all Ellius ladies' necklaces with stones are handmade in 925 hypoallergenic silver.
Let yourself be carried away by the luminosity and extraordinary character of these silver and gemstone necklaces and choose your favourite!
Read More