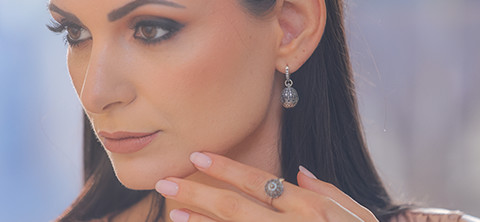 Women's silver earrings with stones
Ellius proposes numerous silver ladies' earrings with stones within its collections. For each jewel, the most suitable stones have been chosen to enhance the brilliance, symbolism and elegance of each pair of earrings.
Handmade earrings with stones: the must haves of Ellius
The Ellius collections present a wide variety of handmade ladies' earrings with stones. Light and brilliance are strong elements, for example, in the Solaris collection, where coloured stones are the stars. Yellow, red, green or white, the stones in this collection enrich and make unique the earrings, which feature elements inspired by the sun and its rays.
Ruby red stones have been chosen for the Vulcano collection; white or black stones make the Rosoni collection sparkle. Whether pendant, lobe-shaped, symmetrical, long or short, all Ellius ladies' earrings are handmade in 925 sterling silver.
The earrings with stones by Ellius give elegance and personality to whoever wears them, thanks to the symbolism linked to every single creation: silver women's jewellery with a unique and unmistakable design, cared for in every detail. Relive the memory of an unforgettable holiday with the Cupole earrings or enhance your spirituality with the Era collection.
Choose the earrings for women with stones that tell you better and shine with Ellius jewels!
Read More