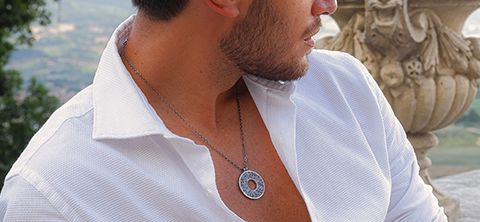 Men's silver necklaces
More and more, in recent years, men like to stand out with original necklaces. Ellius offers a wide variety of men's necklaces with an unmistakable style and unique character.
Silver necklaces for men
Long, short, with rosary: the men's silver necklaces of Ellius collections are light jewels, to be worn every day.
Great knights, heroic battles, swords and lions: these are just some of the elements that make these jewels, made of 925 hypoallergenic silver, unique.
Jewels with a great symbolic value, Ellius men's necklaces enclose the love for made in Italy and for beauty. The Nativity collection, for example, encloses elegant men's necklaces with an unmistakable style. The cross, symbol of faith, is reproduced in different ways, using different textures and black stones, to make these jewels strong and unique.
The star of the Nativity is reproduced in a meticulous way, taking up the small details of the one found inside the church of Bethlehem, on that spot where – it is said – Jesus was born.
For men who are determined and do not want to go unnoticed, Ellius has thought of the Minerva collection, in which Roman war elements are the protagonists. Thus, the shield becomes a design pendant and the gladiator's helmet a small work of art, to be worn always. Black stones and aged silver give life to necklaces with a strong character and modern design. Not just simple necklaces, but real jewels that can amaze, that enchant. Unique gifts that surprise for their originality, gifts for unforgettable moments. Choose from Ellius men's necklaces and tell your story!
Read More