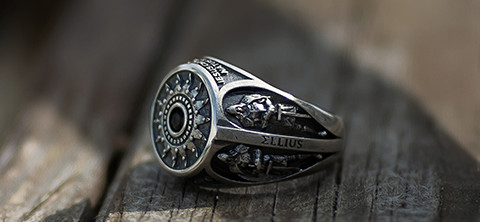 Men's silver rings
With a strong and determined character, Ellius men's rings are unique jewelry!
Ellius men's rings: jewels with great personality
Handmade by expert craftsmen, Ellius men's rings are designed for men with a strong and determined character. Expression of the Made in Italy, these jewels are characterized by the many facets and the great values they contain. Not just rings or wedding bands, but jewelry with character, to be worn with character and personality.
The Gemma collection, characterized by the presence of stones such as onyx or mother of pearl, is elegant and refined. The Vitruvian Man, the Capitoline She-wolf or the Imperial Eagle, are engraved with precision and skill in the Imperial and Mythology collections. Men's rings that rediscover the values of the medieval knight and bring them to life in jewels that are small works of art.
Handmade in 925 silver
The choice of silver for the realization of men's rings is no accident. Silver can be shaped with ease, allowing artisans to express their creativity.
The highest expression of originality and refinement is certainly found in the latest Ellius collections: Nativity and Our Father.
The Nativity, with its star, which has a beautiful black stone in the center, is among the most sought after rings. Strong and fascinating, but also rich in history and mystery, is instead the men's ring in aged silver "Guardians of the Templars". More modern and linear, instead, are the rings of the Snake collections, with a texture that recalls the skin of this fascinating reptile and with malachite, a green stone, which evokes its typical color.
These and many other men's rings with silver stones are available in the online store, in the monobrand stores and in the official Ellius retailers.
Read More