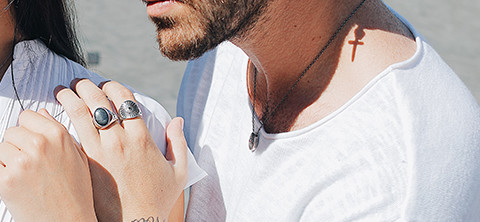 Men's silver rings with stones
Modern and with a strong personality, Ellius collections are full of beautiful men's rings with stones.
Men's rings with stones: strength and history in small jewels
Ellius men's rings with stones are among the most popular accessories in our online store. Handcrafted in 925 sterling silver, these jewels have a modern and attractive design.
Hard stones such as onyx or mother of pearl make the Gemma collection rings elegant and bold. But men's rings with stones are also the protagonists of the Serpente collection. It is impossible, in fact, not to notice and fall in love with malachite, the green stone used in this collection, which makes these jewels truly unique and inimitable.
For a more elegant look, but that wants to be noticed, Ellius has thought of using white or black stones, found in the Solaris, Era or Cavaliere collections. For those who, instead, want to wear mystery and spirituality, the ring of the Era collection is really a special jewel. The engraving of the Our Father, alternating with black stones, is a masterpiece of our Made in Italy.
Discover men's rings with stones and wear a jewel with an extraordinary design!
Read More