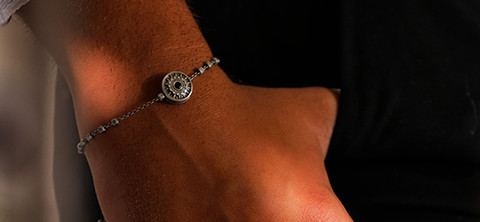 Men's silver rosary bracelets
Elegant and full of spirituality, the men's Rosary bracelets are all made of hypoallergenic 925 silver.
Men's rosary bracelet – a fashionable accessory
The men's bracelet with rosary has become, especially over the years, an accessory worn and loved by men of all ages.
Full of charm, they contain spirituality and faith, but not only.
Today, in fact, in the world of fashion, the rosary has moved away from the purely spiritual value of which it was inherent and has been transformed into jewelry loved and worn by men and women.
For those who love prayer, the men's rosary bracelet is a piece of jewelry to wear every day, to dedicate a few minutes of the day to a spiritual moment.
For fashion lovers, however, this jewelry has become trendy.
With a modern and captivating design, the men's rosary bracelet is perfect for everyday wear, both with an office suit, and with a more casual or sporty outfit.
Ellius has included men's rosary bracelets in many of his collections, inserting, within these splendid jewels, in addition to typical elements of the specific collection, also traditional characteristic details of the rosary.
Discover the Ellius collections and choose your favorite men's rosary bracelet!
Read More