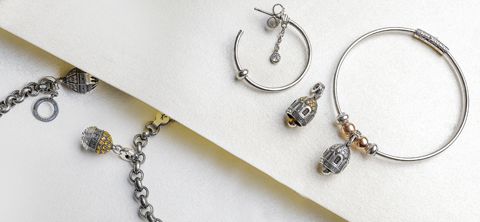 Bracelets and earrings: women's modular jewellery
Discover the modular silver jewellery from the Ellius collection and have fun making your own personalised piece of jewellery.
Modular jewellery: unleash your creativity.
Thanks to the magic of modular jewellery, you can create the gift of your dreams: just look for your favourite pieces, put them together and you're done! You can create your own modular bracelet, for example, by choosing from the Ellius models available and enriching it with the unmissable charms from the different collections.
Modular charm bracelets are customisable jewellery and, for this reason, unique. Thanks to the charms, you can tell who you are, your story or immortalise your memories. Among the modular Ellius jewellery you can also have fun customising your earring, enriching it with the details you prefer.
Ellius modular jewels are all made of 925 hypoallergenic silver by skilled artisans, who carry on the Italian goldsmith tradition.
Modular jewellery: how does it work?
Composing your modular jewel is very easy! First, choose the jewel to compose between the opus rigid modular bracelet, the rolò bracelet or the column earring. Once you have chosen the base, choose our charms, with the variant suitable for the modular jewel, and add them to your cart. Choose the jewellery that reflects your life, your story, your personality from the charms in the Cupole, Rosone, Mythology and other collections.
Have fun creating the modular jewellery of your dreams! Create your own modular jewellery and wear your story!
Read More