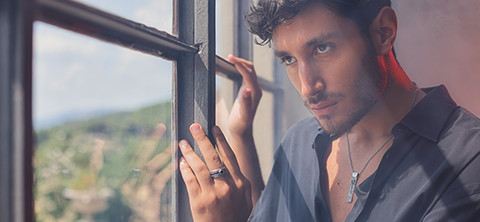 Men's silver jewelry
Discover Ellius men's jewelry: unmistakable design, designed for those who love to wear something unique.
The silver men's jewelry is handcrafted so as not to neglect any detail. Objects with a strong and determined personality, inspired by symbols that tell the story.
The use of silver, a shiny metal, malleable and ductile, allows us to create men's jewelry with the most refined shapes.
Thus, the crusader helmet, a typical war accessory, becomes a modern and fascinating ring; the magnificent rose windows, which dominate the great basilicas, are transformed into elegant silver cufflinks, to be worn on the most important occasions.
Discover men's jewelry and complete your outfits with a touch of originality.
Men's jewelry: a wide choice
Ellius has a deep passion for men's jewelry and there are many collections dedicated to him. Men's jewelry tells the story of the past, but also the beauty of art, inspired by medieval accessories, great battles, monuments of timeless charm, the splendor and details of architecture. It is not only history that inspires jewelry for him: Ellius Jewelry also enriches its collections with the symbols that have always been associated with animals.
Snake jewelry, for example, takes the beautiful texture of the scales of this fascinating animal and brings it back in bracelets, rings and necklaces, making men's items with a strong character and unique style.
The jewelry inspired by the lion becomes jewelry with a strong personality: symbol of courage, strength and loyalty, the lion is one of the most beloved creatures of Ellius, which proposes it in several collections of men's jewelry.
Ellius: jewelry designed for him
Rings, necklaces, bracelets, earrings and cufflinks of the men's collections represent true icons of style. A perfect choice of jewelry designed for the man who likes not to go unnoticed.
Objects made with care for those who want to communicate a strong aesthetic sense, combined with a strong and decisive character, which distinguishes the lines of jewelry for men.
For you, for those you love, for those you esteem: choose an Ellius jewel for men!
Read More