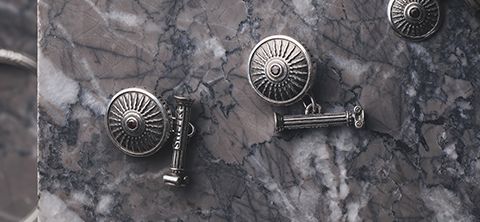 Men's silver cufflinks
Small, elegant and modern: within its men's collections, Ellius offers a wide selection of cufflinks.
Cufflinks for man shirt cuffs
The Ellius cufflinks for men are not simple objects to decorate the cuffs of a shirt: different in shape, they all have something to tell. Handmade in 925 silver, they are small works of art to be worn in special moments.
The Serpente (Snake) collection, with its scale-like texture that recalls the skin of the reptile, offers square-shaped cufflinks with a modern design.
Original in shape and design, Colonna cufflinks encapsulate values and symbols of the ancient Greek world. The shape of the column, taken up by Ellius in an entire collection of jewels, was for the ancient Greeks a symbol of the superiority of man, who in life rises towards divinity. The cufflinks of this collection, in silver and with an elongated shape – inspired by the column – give to the man who wears them a strong and determined character.
Men's cufflinks with timeless charm
The Rosoni collection is the one with the widest choice of cufflinks for men. Inspired by the rose windows that adorn and dominate the most beautiful basilicas in the world, the cufflinks take up their shape and details. Round, elegant, refined: the cufflinks of the Rosoni collection have a simple design, but at the same time evoke strong emotions.
The typical rays of rosettes are reproduced in a precise and meticulous way in these small jewels, which look like small works of art! Unique decorations, such as that of the great mosque of Mecca, geometric games like those of the basilica of Pisa or the small stars of the basilica of Palermo, make these jewels unique and inimitable.
A perfect gift not only for those who want to impress, but also for those who want to give the memory of a trip, or an emotion experienced.
The Ellius cufflinks for men are original, unique and unmistakable design … choose your favorite and tell your story!
Read More