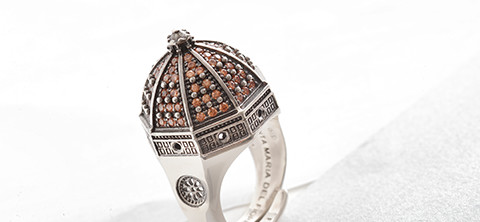 Women's silver rings
Shop Ellius women's silver rings and immerse yourself in art and beauty. Handcrafted in 925 hypoallergenic sterling silver, Ellius rings are featured in all collections.
Handmade in 925 silver
Simple and linear, with stones and unique details, on Ellius.com you will find the 925 silver rings for women with an unmistakable style. Handmade rings perfect for any occasion.
Ruby red stones light up the rings of the Vulcano collection, while the dry and clean lines of the Roman temple characterize the women's rings of the Colonne collection. The She-Wolf, the Colosseum and the Mouth of Truth are engraved in the rings of the Mythology collection. The love of history is reflected in every single detail of the Ellius women's silver rings.
Handcrafted rings for women that make you dream
The Cupole and Rosoni collections showcase all the craftsmanship of Ellius' artisans. The women's rings echo the details of the world's most beautiful domes, making these jewels unique and inimitable.
The Rosoni collection, on the other hand, draws on silver the details of church rosettes. Each ring speaks of history, art and beauty. Each ring is a piece of memory to wear on your finger: the love for a city, an indelible moment lived with a loved one, the wonder of the eyes in front of a unique work of art.
Not simple wedding rings, but jewels that tell something.
Women's rings are the ultimate expression of Ellius' love for made in Italy, art and history. Choose among the different proposals of Ellius and wear a 925 silver jewel!
Read More