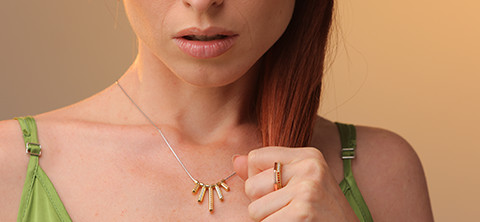 Women's silver necklaces
Discover all the women's silver necklaces made by Ellius and enrich your look with a unique handcrafted creation with timeless appeal.
Handmade silver necklaces for women
Ellius women's silver necklaces are all handmade and represent the highest expression of Made in Italy: quality of materials, attention to detail and love for jewellery.
All the collections feature women's necklaces, embellished with details that recall the world of history and art. With their modern and unmistakable design, the necklaces are made of 925 hypoallergenic silver. The Dome collection presents different types of necklaces: classic, minimal or rosary necklaces.
The key element of this silver jewellery is the dome, inspired by the most beautiful domes in the world. And so it is possible to wear St. Peter's in Rome, Brunelleschi's dome in Florence, Notre Dame in Paris or Washington's Capitol. Necklaces that evoke the memory of a journey, that tell a piece of our art history.
In the same vein, the Rosettes: elegant and refined, they are perfect jewellery to enhance your most elegant look. Women's silver necklaces, designed to amaze the wearer or the gift recipient!
Women's necklaces that tell the story
For lovers of mythology and history, Ellius has created collections and necklaces for women inspired by figures such as Medusa or the goddess Venus. The love for the most ancient history lives again in necklaces inspired by Magna Graecia or ancient Rome, with symbols that recall monuments or famous figures. Temples, ointments, lyres and laurel leaves: these are just some of the symbols found on Ellius women's necklaces that recall the wonders of ancient Greece. The Capitoline She-wolf or the famous Mouth of Truth, bring to light, instead, the majesty of ancient Rome. Choose the perfect silver women's necklace for you and get noticed with an Ellius jewel.
Read More