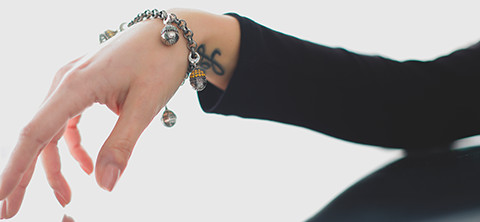 Women's silver charms
Looking for a unique women's charms to make your bracelet shine? Discover among the different proposals of Ellius and start writing your story.
Unique and original woman charms
Ellius woman charms are not the classic charms that you can find everywhere. Ellius is inspired by art and history to tell a magical world, made of great deeds, mythological heroes, unique beauties and turns them into memorable jewels.
Among Ellius women's charms you can find elements such as Leonardo da Vinci's Vitruvian Man, the reproduction of Cupid and Psyche or Pegasus. The love for the city of Arezzo inspired the "Giostra" collection, in which Ellius has taken the most important elements of the Giostra del Saracino. Thus, horses, drums and jousts of the Joust become beautiful charms for women, elegant and original.
In any self-respecting modular bracelet, then, you can not miss the letter, a perfect gift to carry with you always.
For those who love art, however, you can choose between the charms for women Cupole and Rosoni. The collections that have made Ellius famous all over the world are enriched with small charms for women, that take up in a minute way the beauties, not only Italian, but of the whole world. Majestic domes and particular rose windows become small charms, elegant and bright, perfect in every little detail.
Charms for woman to wear always
The charms for women Ellius are handmade by skilled craftsmen. The choice of 925 silver, famous for its brightness and malleability, allows to transform great works of art into small unique jewels. The use of white and colored stones makes Ellius charms bright and shiny. Customize your bracelet with Ellius women's charms and shine with unique jewelry!
Read More