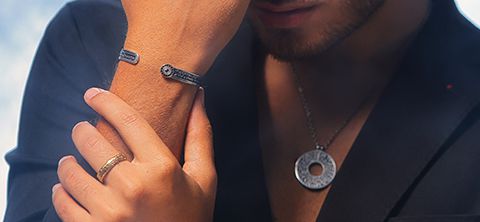 Men's silver rigid bracelets
The Ellius rigid men's bracelets are entirely handmade in 925 silver.
Rigid men's bracelet: a trendy piece of jewelry
For the man who loves to wear jewelry, the rigid bracelet is certainly one of the trendiest accessories in recent years.
In its collections with a stronger personality, Ellius has included several rigid men's bracelets, which incorporate details and symbols of the collection to which they belong.
The rigid men's bracelet, from the Era collection, has the engraving of the Our Father prayer on both sides of the jewelry in two languages, Aramaic and Italian.
With a unique design, the rigid men's bracelet, from the Serpente collection, incorporates the splendid texture of reptile skin, embellished with green malachite.
Original and trendy, the bracelets of the Giostra collection are inspired by the golden spear, the coveted prize of the famous Giostra del Saracino in Arezzo.
For those who have a more classic style, but do not want to go unnoticed, the rigid men's bracelets, from the Colonna collection or the Opus collection, are certainly the most purchased.
Choose the men's rigid bracelet that recalls your style and wear unique and trendy jewelry.
Read More