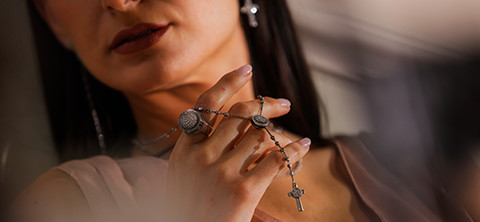 Women's silver rosary necklaces
Discover the women's silver rosary necklaces from the Ellius women's collections and immerse yourself in a world of charm and beauty.
Ellius women's Rosario necklaces: between art and fashion
Ellius has embellished the Rosary necklaces with the distinctive elements of its collections. Art, history and beauty are intertwined with elements of faith and prayer, resulting in unique jewellery.
Domes and Rose Windows, for example, with their small but unmistakable details, enrich these elegant silver ladies' necklaces. The small spheres characteristic of rosaries, which take up the grains of classic rosaries and the ever-present cross, make rosary necklaces jewellery with a strong spiritual value.
Rosary necklaces with timeless charm
Rosary necklaces, a trend in recent years, are among the most sought-after jewellery pieces for women of all ages. Timeless silver jewellery, they are perfect gifts for an important occasion. Simple or double twisted, they are handmade by skilled artisans, capable of bringing the values of Made in Italy to the world. The 925 hypoallergenic silver makes these jewels durable and easy to wear.
Enrich your look with Ellius rosary necklaces: immerse yourself in the charm of these silver jewels and wear something unique!
Read More