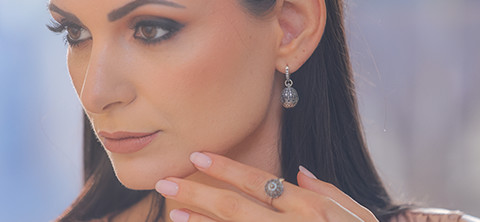 Women's silver earrings
Pendants, lobes, asymmetrical… Ellius offers a wide range of women's silver earrings to choose from.
Women's silver earrings
Ellius offers a wide range of silver 925 earrings for women.
This hypoallergenic material lends itself very well to small and meticulous workmanship, just like Ellius women's jewellery, which is full of tiny and precious details. The women's earrings, in silver, are present in all the collections of the website and can be found in the mono-brand shops and in the Ellius retailers.
In each collection it is possible to find lobe earrings, asymmetric or dangling earrings, original women's earrings enriched with coloured stones or precious elements. Silver, black or rose finishes enrich the Ellius women's earring collections, which are available in a wide range to choose from.
Women earrings: the beauty to wear every day
Ellius woman earrings are characterized by the meticulousness of the details. Ellius encloses, in these small jewels, all the magic and beauty of our history, making wear small creations that have something to tell.
Women's earrings from the Vulcano collection sparkle thanks to ruby red stones, reminiscent of lava and the beginning of life on our wonderful earth. The Nativity collection features earrings with the little cross and star, inspired by the one placed in the church in Bethlehem and representing the spot where Jesus was symbolically born. The women's earrings Chimera, Minerva or Colonne, instead, present the symbols that tell the story of ancient Greece and the great imperial Rome.
Famous, by now, the earrings Domes and Rosettes, which tell the journey to the history of Italian art and around the world, through the representation of the domes and rosettes of the most beautiful basilicas. White or colored stones enrich all Ellius woman earrings.
To wear every day, for special occasions, to make a unique gift or to match with different looks, choose your favorites!
Read More